HDR is by far the most popular style amongst professional real estate photographers. However, it is really the best solution available? Another style, though not as popular, is using flash while photographing a property. Usually, photographers have their preference as to which is best and shoot with either one or the other. Primarily, I, for example, shoot with flash but I know that there is a time and place for HDR. Hence, I use both styles often in my work.
Because it is so bright outdoors when you're photographing a house inside (even with the lights on) it's impossible to capture the interior of the house as well as the view outside in the same image using natural light alone. If your camera's exposure is set for the view in the window, the inside of the house will be super dark. Alternatively, if your camera's exposure is set to make the inside of the house appear nice and bright, the windows will all be overexposed.
Therefore in order to create a great real estate image, you will either need to add enough light inside the house to match the amount of light coming through the windows (by using flash) or take multiple exposures of the same image and blend them together in post-production.
Because using flash to brighten a room can be very complicated and there are several different software programs that will blend HDR photos together for you automatically, most real estate photographers opt for the HDR route. However, the question remains: Which style produces the best results?
HDR Photography for Real Estate
HDR photography requires the photographer to take multiple photos of the same image using different exposure settings and then combining the images into one final photo in post-production. For example, most real estate photographers will take 3 photos for each final image:
-3 Exposure Compensation
0 Exposure Compensation
+3 Exposure Compensation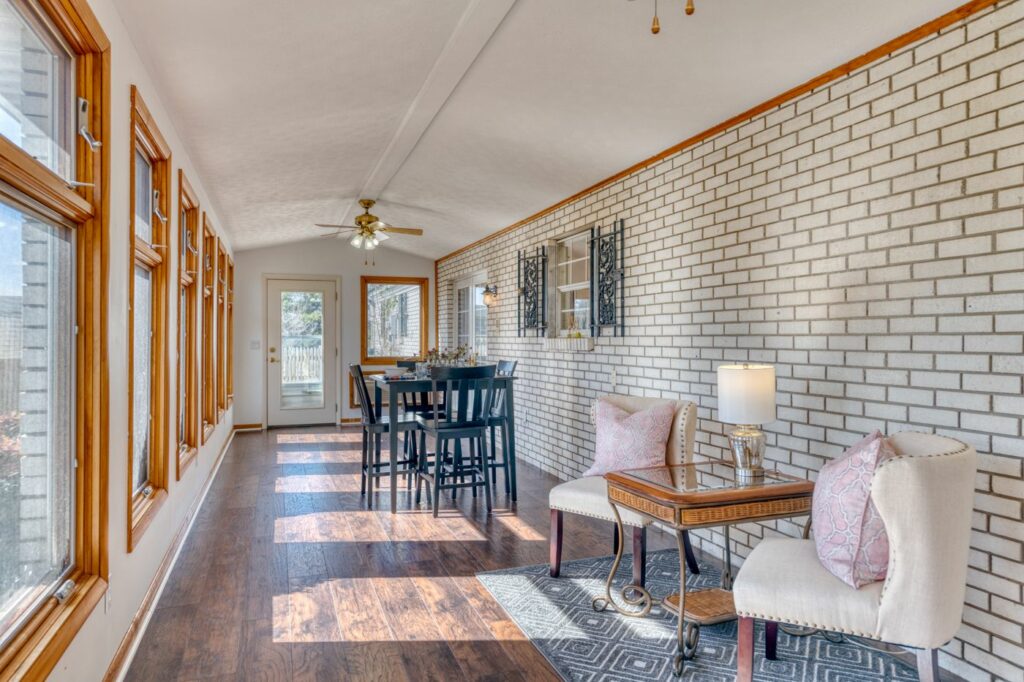 Though sometimes, depending on the light, a photographer might take up to seven different exposures for the same image. It all depends on how bright it is outside, and how dark the house is. If your darkest image isn't at least showing at least perfectly exposed windows and your brightest image isn't showing a perfectly exposed interior then you won't get the results you are looking for.
The difference between using 3 images to just 4 images can make a big difference.
No question, HDR can be a lifesaver and create some stunning images when photographing real estate. But personally, I prefer to use this style of photography sparingly.
Problems with using HDR and why I prefer flash (most of the time)
The "dirty" look of HDR only gets worse when shooting a super dark interior on a bright sunny day. The higher the dynamic range in the photograph – the more discoloration walls and window frames will have. Notice the hallmark "black smudges" of discoloration in the HDR photograph below.
In contrast to HDR – Flash will almost always produce a sharper, crisper image. Your whites will be whiter and your blacks will be blacker. This can actually make things actually look cleaner and newer then they are in real life.
In addition to this, flash not only produces a sharper image with more contrast but it's also actually much faster then HDR.
True. You may spend slightly longer at the property properly lighting the house, but you'll save all that time and more doing the post-production later on. Compiling a bracket of 4 images will take about 5 minutes in post-production for me. (And that's with a kick-ass machine!) However, with flash I can bulk edit all of my pictures with a single click of a button. The few images that need to actually be brought into photoshop take seconds to perfect.
I spend on average about 5 minutes doing my post-production per property at the end of the day. That's compared to 45+ minutes per property I spend on an HDR shoot.
In summary
Both techniques have their place in real estate photography. Depending on the composition, time of day, exterior and interior lighting, one technique may be easier than the other, but rarely will HDR give a better result in the final image.